Mexico Congressman Moises Villanueva killed 'by rival'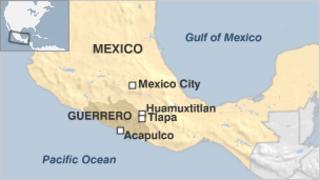 Judicial officials in Mexico say the murder of a federal Congressman in the southern state of Guerrero last month was ordered by a political rival.
Moises Villanueva, a representative in Mexico's lower house, the Chamber of Deputies, was found dead two weeks after being abducted.
Police said two men confessed to the crime and implicated a local mayor.
The suspects said the mayor, whom the authorities have not named, paid them $22,000 to kill Mr Villanueva.
Mr Villanueva was abducted along with his driver, Erick Estrada Vazquez, on 4 September.
Their bodies were found by the roadside in the southern state of Guerrero two weeks later. Forensic reports at the time said they had been shot dead.
Attorney General for Guerrero State Alberto Lopez Rosa said the two suspects, who are brothers, had confessed to the murder.
He said the suspects, one of whom is a police officer, had intercepted Mr Villanueva and his driver in the town of Huamuxtitlan.
Mr Lopez Rosa said they confessed to beating the two men and forcing them into the boot of their car before driving them to a bridge, from which they dumped them.
It is not clear whether the politician and his driver were still alive at the time.
Mr Lopez Rosa said he would soon reveal the identity of the man the suspects said had hired them to kill Mr Villanueva.