Haiti senate appoints Clinton aide as prime minister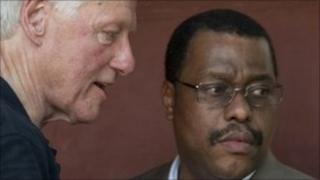 The senate in Haiti has appointed an aide to former US President Bill Clinton as prime minister.
Garry Conille was the third nomination put forward by President Michel Martelly, ending months of delay in forming a government.
His first two nominees were rejected by lawmakers in June and August.
Mr Conille worked for Mr Clinton in his role as a United Nations envoy to Haiti.
His approval in the senate came after a 17-3 vote, with nine abstentions.
The lower house endorsed his nomination last month.
Mr Conille, a 45-year-old gynaecologist, has had a long career with the United Nations specialising in development and health issues.
He has worked for the UN in Ethiopia and Niger, as well as in Haiti, where he has been Mr Clinton's chief of staff.
Martelly's vision
President Martelly's spokesman Lucien Jura, congratulated the senate for ratifying his choice.
"There will be a government to implement the Martelly vision that the country needs," he said. "The senate made a decision that will improve the lives of the population."
The two chambers of parliament are dominated by parties, which backed Mr Martelly's rivals for the presidency.
The political novice was elected president in March in a run-off poll, after a first round marred by fraud.
As he took office in May, Mr Martelly pledged to speed up earthquake reconstruction, develop the impoverished countryside and build a modern army.
Hundreds of thousands of Haitians still live in tents after the devastating January 2010 earthquake.
But the new president has needed a prime minister to assemble a government that can work with international agencies involved in the task of rebuilding.