Colombians call for kidnapped girl's release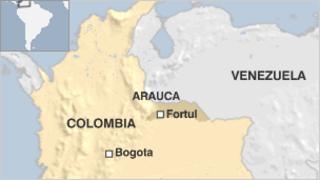 Residents of the small Colombian town of Fortul, near the Venezuelan border, have taken to the streets to demand the release of Nohora Munoz, a 10-year-old girl who was kidnapped on Thursday.
The girl, whose father is the town's mayor, was abducted along with her mother on her way to school.
The mother was released shortly afterwards.
Fortul Mayor Jorge Munoz said he had spoken to the kidnappers on Sunday and they had assured him she was alive.
Mr Munoz, who spoke to the abductors on the phone, said he knew who they were but was not yet in a position to reveal their identity.
"You need to understand that we have to protect my girl, so she will be well," he said.
He said the kidnappers had told him the girl was in good health and in a safe place.
But the head of Colombia's anti-kidnapping police force, Humberto Guatibonza, said officers were still trying to confirm whether the people Mr Munoz spoke to were indeed those holding his daughter.
Mass solidarity
Some 800 people demonstrated in Fortul, in eastern Arauca province, on Monday demanding Nohora's release. Many of those who marched were children from her school.
The government has offered a reward of 100m peso ($51,500; £33,500) for information leading to the capture of the kidnappers.
The head of the United Nations Children's Fund (Unicef) in Colombia, Miriam Reyes, also called for Nohora's immediate release.
She said the kidnappers had to understand that "children have a right to be protected and to be spared from crime".
Police said Mr Munoz had not received any threats before his daughter was kidnapped.
Arauca is one of Colombia's most important petroleum-producing regions.
Left-wing guerrillas from the Farc and ELN have a strong presence in the area.