Hugo Chavez denies media reports of health emergency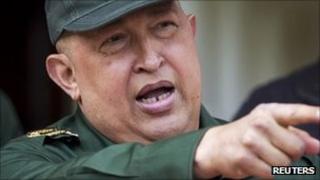 Venezuelan President Hugo Chavez has denied US media reports that he was rushed to hospital with kidney failure linked to his cancer treatment.
"I'm fine, I'm having my first coffee of the day," Mr Chavez, 57, told state TV by telephone.
Mr Chavez, who had a fourth and final round of chemotherapy last week, urged Venezuelans to ignore such rumours.
The Miami-based Nuevo Herald newspaper had quoted hospital sources as saying he was in a serious condition.
In a telephone interview with VTV, Mr Chavez said reports about his health were untrue.
"I ask the Venezuelan people to ignore these rumours. If anything happened, I'd be the first person to tell you about any difficulty," he said.
Rumours about his health were aimed at creating uncertainty, Mr Chavez said.
Mr Chavez said his treatment was going well and that he is finished with chemotherapy.
He had surgery in June to remove a tumour that was later confirmed as cancerous.
However, the exact nature and severity of his cancer have not not been disclosed.
There has been speculation about whether he will be well enough to stand for re-election but Mr Chavez has said he will run in the October 2012 presidential poll.
Mr Chavez has secured repeated election victories since he first won the presidency in 1998.