Bolivia highway protests spread, paralysing La Paz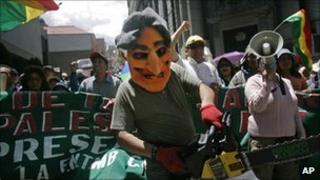 Tens of thousands of demonstrators in Bolivia have brought traffic to a standstill in central La Paz.
They were protesting against the construction of a highway which would pass through a nature reserve in the Amazon.
The Bolivian government says the road is essential for development and would encourage trade by linking remote communities to market towns.
But indigenous communities fear it could encourage illegal settlements.
Bolivia's largest labour union had called for a day of protest on Wednesday.
Public anger
Thousands blocked the streets of central La Paz, carrying banners opposing the road and criticising President Evo Morales.
One of the demonstrators told the Associated Press news agency that Evo Morales' government was "the worst and it should go because it attacked human beings, the indigenous compatriots who had given it their support, and now it's turned its back on them".
Many of the protesters called into question President Morales' commitment to indigenous rights and the protection of "Mother Earth", which he advocated during his election campaign.
President Morales has suspended work on the road until a referendum is held, but the furore over the construction and the government's handling of the protests has not abated.
Indigenous groups opposed to the road said on Wednesday they would resume their 500km (310-mile) march to La Paz.
Their trek was broken up by police firing tear gas on Sunday and protesters complained that "extreme violence" had been used.
Defence Minister Cecilia Chacon resigned in protest at the police action.
Interior Minster Sacha Llorenti and his deputy Marcos Farfan stepped down on Tuesday.
They had defended the break-up of the march, but denied ordering the use of force.