Cuban authorities ease car sales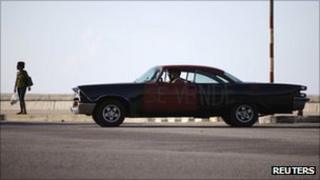 Cuba has eased a 50-year-old ban on private car sales.
Private property is severely restricted in the communist-run island and until now, Cubans could only trade in cars built before the 1959 revolution.
New cars can only be purchased with US dollars or convertible pesos, a special Cuban currency pegged to the dollar.
But ordinary Cubans can now buy post-1959 cars from foreigners and those whose jobs allowed them to import Soviet-made cars.
The new regulations were announced in the Official Gazette.
Raft of reforms
Under the new rules, foreigners residing in Cuba can buy new cars at approved dealerships or import them from abroad, but they are limited to two purchases for the duration of their stay.
Cubans earning dollars or convertible pesos because they are working for the government or "in positions of benefit to the government" can also buy new cars, as long as they get a permit from the transport ministry.
Tens of thousands of Cubans who were allowed to buy Soviet-made cars can now sell them freely to other individuals.
And artists and sports stars, who had been given permission to import modern cars from abroad, are now also free to sell them.
The changes had been widely expected since July, when Communist Party newspaper Granma had published details of the proposals.
They are part of a series of reforms driven by President Raul Castro aimed at updating the Cuban economic model.
Raul Castro has championed limited free-market reforms since taking the reins of power from his brother Fidel in 2008.
In April, the Communist Party Congress backed hundreds of reforms which included relaxing the laws on foreign travel and allowing Cubans to set up small businesses.