Bolivia minister resigns over Amazon road protest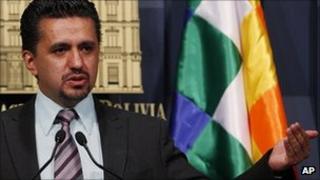 Bolivian Interior Minister Sacha Llorenti has resigned after being heavily criticised over a police crackdown on a protest march.
On Sunday police fired tear gas and arrested hundreds of activists protesting against the building of a road through the Amazon.
Mr Llorenti's deputy also quit and the defence minister resigned on Monday.
Bolivian President Evo Morales has suspended work on the road until a referendum is held.
However, a national furore over the construction has continued.
The proposed 300km (190-mile) road, financed by Brazil, would link Brazil to Pacific ports in Chile and Peru.
But it will also pass through an Amazon nature reserve that is home to about 50,000 people from three different indigenous groups.
About 1,000 protesters were staging a 500km (310-mile) march to the main city La Paz when riot police stopped them in the Yucumo region on Sunday.
Protesters complain that "extreme violence" was used when police surged into the demonstrators' camp.
Defence Minister Cecilia Chacon resigned immediately after Sunday's crackdown.
Debate call
Mr Llorenti initially defended the police action, saying it was aimed at preventing clashes with pro-government groups.
He announced his resignation on Tuesday, but said neither he nor President Morales had ordered the police to use force against the marchers.
"I gave the president my resignation and he has accepted it," he told reporters at the presidential palace.
His deputy minister, Marcos Farfan, also resigned but denied ordering the police action.
The director of Bolivia's migration agency, Maria Rene Quiroga, also stepped down on Tuesday in protest at the treatment of the protesters.
President Morales has suspended work on the road, calling for a debate between the two provinces involved - Cochabamba and Beni.
Correspondents say the controversy is a major setback for President Morales, who has been seen as a champion of indigenous communities in Bolivia.
Mr Morales says the road is essential for Bolivia's development.