Ecuador crime fears see soldiers used for police duties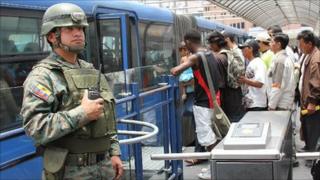 La Marin is not only one of the busiest bus stations in Ecuador's capital, Quito, but also one of the city's crime hotspots with frequent muggings and thefts.
Angela Nunez works here every day, selling tram tickets at a makeshift stand. She has witnessed several assaults and robberies and does not feel safe handling money in such an exposed place, with thousands of people passing through every hour.
But today three soldiers in full assault gear are guarding the area, reassuring Ms Nunez.
"I wish the soldiers could be here every day of the week," she says. "This area is very dangerous, I feel much safer like this."
Ms Nunez is not alone. According to several opinion polls, crime is the most pressing issue for Ecuadoreans. For many, having the army in the streets is the best deterrent against criminals.
Soldier substitutes
Ecuador, once considered peaceful compared with neighbouring countries, has experienced an increase in crime over the past decade.
Sandwiched between Colombia and Peru, the world's largest cocaine exporters, Ecuador has become a transit point for drug traffickers, and the presence of Mexico's Sinaloa cartel is well-documented.
Drug consumption in Ecuador has also increased, bringing with it gang turf wars and petty crime.
The government has responded to the public perception of growing insecurity by deploying the army on the streets to boost policing.
But critics say soldiers are no substitute for the police, and that the lines between the two forces are being dangerously blurred.
Under Ecuador's constitution, approved under the current administration in 2008, the police are responsible for internal security, while the army is in charge of national defence.
When President Rafael Correa took office in 2007, he was keen to limit the role of the army.
But the situation changed on 30 September 2010, when a police revolt over benefits turned into what the government alleges was an attempted coup.
Police officers deserted their posts, and with few officers patrolling, looting broke out in numerous towns, especially in Guayaquil, the country's biggest city.
Mr Correa says he was held hostage for more than 10 hours in the main police hospital, where hooded policemen tried to assassinate him.
The army eventually came to rescue him and there was a shootout between the two forces. Five people died and almost 200 were injured.
Scores of police officers were arrested for their alleged role in the revolt, most of whom were later released.
Training
This left many Ecuadoreans feeling ambivalent towards the police and left Mr Correa with a dilemma over who to trust with maintaining law and order.
Last November, a judge from a lower court in Quito's Pichincha region ruled that the armed forces could join the police to tackle crime.
Army operations started up throughout the country, and they have increased over the past two months.
Some retired military officials have voiced concerns that soldiers do not have adequate human rights training to be deployed in situations of urban violence.
"The armed forces' presence can be effective for a short time," says Luis Hernandez, a retired army official and a member of the assembly that wrote the constitution in 2008.
"You cannot have someone fulfil a role it is not ready to do. People from the army were not trained for that. They can only do it temporarily."
Gen Ernesto Gonzalez, head of the Joint Command of the Ecuadorean Armed Forces, recently told local radio that the aim was to support the police force as it underwent reform.
"We might not be the ideal men for the job, but we need to offer support," Gen Gonzalez said, stressing that their involvement in policing operations was only temporary.
However, Interior Minister Jose Serrano told BBC News that the army was here to stay.
"This is a process that has to be sustained in the long term," Mr Serrano said. "The armed forces need to start building a permanent role by co-ordinating their efforts with the national police.
"In the mean time, we're working on strengthening the national police."
Assaulted
There is concern that using soldiers as police could fuel rather than control violence.
However, the army is a respected institution, with soldiers appreciated for their work in rural regions where any other state presence is lacking.
The interior ministry is currently drafting a reform of the police force.
Details are still vague but Mr Serrano has said that the aim is to recruit an extra 25,000 officers by 2017.
At the same time, the National Assembly is looking to grant the army more powers to carry out police duties.
That may well set up further tension between the two forces, but many people at the bus station, recalling last year's police rebellion, are clear who should be in charge.
"I was mugged recently. They took my bag, nobody did anything," said Rosa Yanza.
"But if the army had been there, they would have helped."