Jamaica Prime Minister Bruce Golding 'will step down'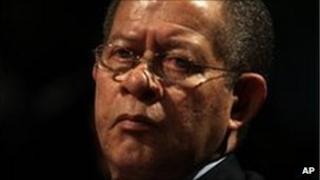 The governing party in Jamaica has announced that Prime Minister Bruce Golding will step down in November.
A statement by the Labour Party said that the challenges of the last four years in power had taken their toll on Mr Golding and that he would make way for a new leader from within the party.
Mr Golding came to power in 2007.
He was criticised for opposing the extradition to the United States of the Jamaican drug baron Christopher "Dudus" Coke, before reversing his decision.
Mr Golding is expected to step down once a new party leader has been elected. The leader of the governing party automatically becomes the new prime minister.
For nine months, Mr Golding resisted the extradition of Christopher Coke, wanted in the US on suspicion of leading an international drugs and guns network thought to span the US and Canada.
Mr Golding finally agreed to Coke's extradition in May 2010.
He also admitted his party had sanctioned the hiring of a US law firm suspected of lobbying Washington on behalf of Mr Coke in an attempt to get the US authorities to drop the extradition request.
Coke pleaded guilty to racketeering charges in a New York court last month.
He will be sentenced in December and could face up to 23 years in prison.