Farc's drug submarine seized in Colombia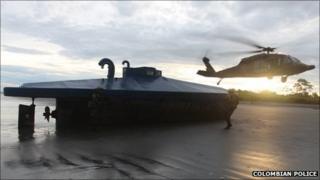 Police in Colombia have seized a submarine belonging to Farc rebels which had the capacity to carry at least seven tonnes of drugs.
The 16m-long (52ft) vessel - equipped with a sophisticated navigation system - was captured near the Pacific port city of Buenaventura.
The police said the submersible was about to be used for the first time to deliver its load.
The vessel would have been able to travel as far as Central America.
"It was going to be used by the narco-terrorist 29th front of the Farc (Revolutionary Armed Forces of Colombia) in alliance with organisations of drug traffickers who operate in this southern area of the country," drugs police chief Gen Luis Alberto Perez told Efe news agency.
He added that it was "probably one of the biggest" drug ships seized in Colombia in recent years.
The authorities believe it cost about $2m (£1.3m) and could hold a crew of five.
Many cocaine traffickers are based in Buenaventura, where poverty and unemployment are high.
Colombia is the centre of the world's cocaine trade, and traffickers are increasingly seeking new ways to avoid detection - including going underwater.
The drugs are mostly smuggled to Mexico or Central America by sea and onward by land to the US and Canada.
Colombia is also the source of most European cocaine.