Cuba 'Ladies in White' protest blocked in Havana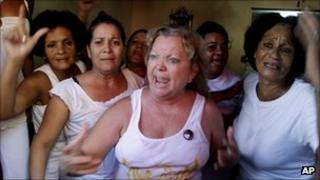 Government supporters in Cuba have prevented the "Ladies in White" dissident group from holding a protest march in the capital, Havana.
Shouting insults and slogans, a crowd of hundreds massed outside the home of the group's leader, Laura Pollan.
The dissidents had been planning to march to church on the Day of Our Lady of Mercy - patron saint of prisoners.
Government security agents looked on but did not intervene as the two groups argued. There was no violence.
Waving Cuban flags, the pro-government demonstrators shouted "Worms!" and "Get out!" at the 35 dissident women inside Laura Pollan's House.
They also set up a sound system that blared out the Cuban national anthem.
Spontaneous?
Cuba's small dissident movement often faces harassment from groups of government supporters.
The communist authorities say such demonstrations are spontaneous reactions by ordinary Cubans, but the opposition say they are orchestrated by the government.
The Ladies in White group is made up of wives and daughters of dissidents who were jailed in a 2003 crackdown on opposition activists.
The prisoners have all been released over the past year under a deal brokered by the Roman Catholic Church, and some have gone into exile in Spain.
But the Ladies in White have continued to campaign for the release of around 50 other prisoners convicted of violent crimes such as hijacking which they say are political.
The Catholic Church says the authorities have stepped up a campaign of low-level harassment of dissidents in recent months.
The Cuban government generally refer to dissidents as mercenaries paid by the US to destabilise the communist system.