Bogota mayor Samuel Moreno jailed pending trial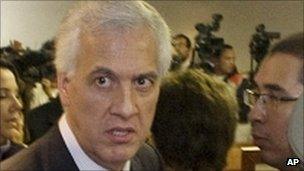 The mayor of the Colombian capital, Bogota, has been sent to prison pending his trial on corruption charges.
Samuel Moreno Rojas denies accusations that he took bribes to award public works contracts.
Mr Moreno had already been suspended as mayor and expelled from his political party, the opposition Democratic Pole.
The mayor of Bogota is considered Colombia's second most powerful political position after the presidency.
A number of other senior officials and businessmen are also facing trial over the corruption scandal - known as the "contracting carousel".
They include Mr Moreno's brother Ivan, a former senator who also denies wrongdoing.
It is alleged that huge bribes were paid to secure contracts to build roads and other major infrastructure projects in Bogota, some of which were not completed.
The charges against Mr Moreno, 61, include fraud, extortion and embezzlement.
The judge ordered that he be held in prison until trial, calling him "a menace to society".
Prosecutors had said he might flee the country or manipulate evidence if he was released on bail.
His lawyers said they would appeal against the decision.
Bogota, a city of more than seven million people, suffers from severe traffic congestion and an over-burdened transport system.
A new mayor is due to be elected next month.
Related Internet Links
The BBC is not responsible for the content of external sites.