Bolivian anti-drugs cop jailed for cocaine trafficking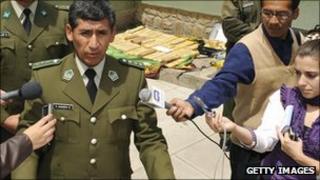 The former chief of Bolivia's anti-narcotics police has been jailed by an American court for cocaine trafficking.
A Miami federal judge imposed the 14-year sentence on Rene Sanabria, 54.
Gen Sanabria was head of Bolivia's anti-drug agency until 2009, and was an intelligence adviser to the government at the time of his arrest.
He pleaded guilty in June to taking part in a conspiracy to ship hundreds of kilograms of cocaine from Bolivia to Chile and then on to Miami.
The court heard the plot was set up by the US Drug Enforcement Administration (DEA), as an undercover sting operation.
Sanabria was detained in Panama and taken to the United States by DEA agents for trial.
He had served for 32 years in Bolivia's police force.
The charge carries a required minimum 10-year sentence.
But US District Judge Ursula Ungaro said he was giving Sanabria a higher sentence because of his leadership role, and to send an anti-corruption message to other government officials.