Paraguay battles foot-and-mouth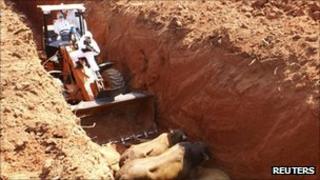 Paraguay has begun the slaughter of around 1,000 cattle in an attempt to eradicate an outbreak of foot-and-mouth disease.
Soldiers have been destroying the animals with rifles and burying them in deep trenches.
The outbreak has caused concern throughout a region famous for its beef.
Uruguay, Brazil and Argentina have banned imports of Paraguayan meat and livestock.
The outbreak was detected on a farm 350km (220 miles) north of the capital, Asuncion.
The destruction of the animals is being monitored by international animal health experts.
"We want everyone to see these animals have been eliminated," local governor Jose Ledesma told the French news agency AFP.
Impact
Paraguay is a poor and mostly rural country, and beef is its second biggest export.
Exports have been suspended for 80 days, and Paraguay's main markets - including Russia and Chile - have also banned imports.
The crisis will have a major impact on Paraguay's economy, which suffered badly during a previous foot-and-mouth outbreak in the region and only regained disease-free status in 2005.
Foot-and-mouth is a highly contagious viral disease affecting cattle, pigs, sheep and goats.
In South America it is normally controlled by vaccination, as well as strict monitoring and trade restrictions.