Mexico 'Twitter terrorism' charges dropped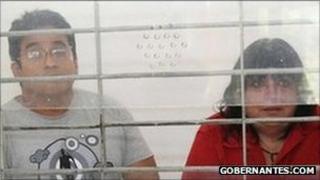 Two Mexicans accused of terrorism and sabotage for using the internet to spread false rumours about drug-related violence have had the charges dropped.
The two suspects were accused of provoking panic in Veracruz state by reporting non-existent attacks on schools on Twitter and Facebook.
Their arrest last month provoked outrage from human rights and civil liberties groups in Mexico.
If convicted of terrorism they could have faced 30 years in prison.
They could still be charged with disturbing public order, a much lesser offence created by Veracruz state's congress this week in response to their case.
'Total psychosis'
Maria de Jesus Bravo Pagola, 34, and Gilberto Martinez Vera, 48, were arrested on 26 August, a day after they are alleged to have posted reports that drugs gangs were carrying out kidnappings and shootings at schools in the city of Veracruz.
"I can confirm that, at the Jorge Arroyo school in the Carranza district, five children have been taken away by an armed group. Total psychosis in the area," Mr Martinez, a school teacher, is said to have tweeted.
At the same time, according to the authorities, Ms Bravo Pagola, a former government official, allegedly wrote that a helicopter had fired at another school while the children were on their break.
"Confirmed and corroborated," her Facebook post, which is no longer accessible, reportedly said.
None of the events proved to be true, but the reports provoked chaos and panic in the streets of Veracruz as people rushed to save their children.
Officials said the pair were responsible, and state governor Javier Duarte demanded they be charged with terrorism.
Mr Martinez and Ms Bravo denied the charges, saying they had only resent information that was already circulating on social media sites.
The case received widespread media coverage in Mexico.
Local human rights groups called for their release, calling the charges unjust and an attack on freedom of expression.
Thousands of people vented their anger on social networking sites.
The decision to drop the charges came a day after Veracruz passed legislation creating a new offence of disturbing public order in response to the case.
"Since there is now legislation that defines the conduct of the two people who caused disturbances, prosecutors are dropping the criminal action," Governor Duarte wrote in Spanish on his Twitter account.
Information vacuum
In recent months, Veracruz state has seen escalating violence involving drugs gangs and the security forces.
On Tuesday 35 bodies - thought to be members of the Zetas drugs cartel - were dumped on a main road in Veracruz in broad daylight.
The case of the so-called "Twitter terrorists" has highlighted the way many Mexicans have come to rely on social networking sites for information on the drug-related violence affecting parts of the country.
Local authorities release only limited information, and some newspapers and broadcasters have reduced their reporting of violence, either because of threats or in self-censorship.
People increasingly check Twitter or Facebook before they go out so they can avoid running into gunfights and stay out of trouble.