Prison officials in Veracruz jailbreak detained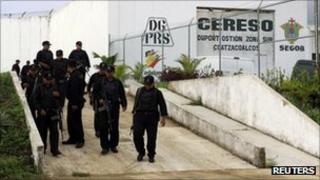 Officials in charge of the Mexican prisons from which 32 inmates escaped have been detained, prosecutors say.
The prisoners staged an almost simultaneous breakout from three jails in western Veracruz state on Monday.
The prison directors and their deputies had been detained on suspicion of helping the inmates to escape, said Veracruz Prosecutor Reynaldo Escobar.
Prison breaks are not uncommon in Mexico, last year more than 140 people escaped from a prison in Nuevo Laredo.
Mr Escobar said the director and the security chief of La Toma jail in Amatlan de los Reyes, as well as the director and deputy director of Cosamaloapan jail, were already in custody.
Inside job
The prosecutor said he had also ordered the detention of the director and deputy director of Duport Ostion jail in Coatzacoalcos.
The breakouts happened in the early hours of Monday morning.
Sixteen inmates escaped from Duport Ostion, 14 from La Toma and two from the Cosamaloapan prison.
Fourteen of the fugitives were recaptured shortly afterwards.
Guards at the jails said they had been overpowered and forced to open the doors.
Veracruz state official Gerardo Buganza Salmeron cast doubt on reports the prisoners had been armed.
"The presence of an armed group normally leads to blood being shed, (it leads) to lamentable and bloody acts, and in the cases of these three prisons there was none of that," he said.
Mr Buganza Salmeron also dismissed speculation that the break-outs had been organised by criminal gangs outside the prisons.
He said that if that had been the case the security forces would not have been able to recapture so many of the fugitives as quickly as they did.
Security at Mexican prisons is notoriously weak, with guards often intimidated or bribed by drug gangs operating inside and outside the jails.
The largest jailbreak so far was last December when more than 140 prisoners escaped from a penitentiary in Nuevo Laredo, in northern Tamaulipas state.
Prison officials who refuse to be bribed by the country's powerful drug gangs sometimes end up dead.
In May, the deputy governor of a prison in the northern state of Durango was murdered.
His dismembered body was found in a plastic box inside a car abandoned near the prison where he worked.