Bolivia recovers two paintings stolen from church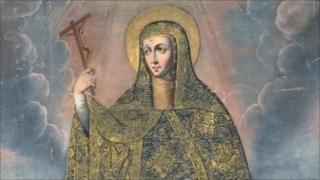 Two stolen 17th Century paintings have been returned to Bolivia.
The colonial religious portraits were taken from the Church of San Andres de Machaca in La Paz in 1997.
A Washington dealer handling the paintings for an American collector asked the London-based Art Loss Register to search its database of stolen art in May 2011.
Experts working for the Register were able to identify the paintings as those stolen from the church.
The portraits, Saint Rose of Viterbo and Saint Augustin, were among more than 100 religious artefacts stolen from the church, which is a national monument, at the same time.
The theft was reported by the Bolivian Ministry of Culture to Interpol.
It was recorded on the Art Loss Register's international database of stolen, missing and looted artwork.
More than 13 years after the theft, the Art Loss Register received a request from a US art dealer who claimed to have received the paintings from an elderly American collector.
Art historians working for the Register were able to conclusively identify the portraits from several unique areas of damage, thanks to photographs taken by the church before the theft.
The complicated negotiations which brought the iconic paintings back to Bolivia were handled by Christopher Marinello, a lawyer who specialises in recovering stolen art for the Art Loss Register.
"We could not have located these paintings without the important and ground-breaking work of Interpol and the Interpol Database of Stolen Art," Mr Marinello said.
"This case is emblematic of the co-operation between the public and the private sector, a relationship that is crucial to the protection of cultural heritage worldwide."
The paintings were returned to the Bolivian ambassador to London, Maria Beatriz Souviron Crespo, by the Art Loss Register at a ceremony at the embassy a week ago.
A number of other items from the theft are still missing.