Missing Mexican politician Moises Villanueva found dead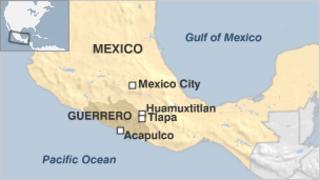 Mexican officials have confirmed that two bodies found with bullet wounds are those of federal congressman Moises Villanueva and his driver.
Police said the bodies were found by the roadside in the southern state of Guerrero over the weekend.
The two men had been missing since 4 September.
Authorities have not yet determined a motive for the murders but officials from Mr Villanueva's party believe a criminal gang was behind the killings.
Mr Villanueva and his driver, Erick Estrada Vazquez, disappeared a fortnight ago.
They had not been seen since leaving a party held by a colleague in the Institutional Revolutionary Party (PRI) in Tlapa de Comonfort, a town in a mountainous area of Guerrero.
They were found on Saturday in the nearby town of Huamuxtitlan.
Authorities said both men had been shot in the head.
Scores of local politicians have been targeted by drug gangs in recent years.
Last year, Rodolfo Torre was shot dead in the north-eastern state of Tamaulipas while he was campaigning to be elected governor.
Mr Villanueva was a representative in Mexico's lower house, the Chamber of Deputies.