Hugo Chavez heads for final round of chemotherapy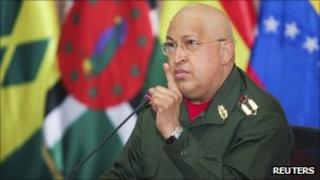 Venezuelan President Hugo Chavez says he is heading to Cuba for a fourth and final round of chemotherapy for cancer.
In a statement broadcast on Saturday, Mr Chavez said that he would depart for Cuba in the afternoon and begin treatment early on Sunday.
He has said he will be well enough to host a regional summit on 2 December.
And he has also insisted that he will be running for re-election next year, campaigning "at a rhythm set by circumstances".
The National Electoral Commission has announced that next year's presidential election will be held on 7 October, ahead of the traditional December date.
In June, President Chavez had surgery in Cuba to remove a tumour from his pelvic region.
He had two rounds of chemotherapy in Cuba, and a further round in Venezuela at the end of August.