Cuban authorities detain opposition activists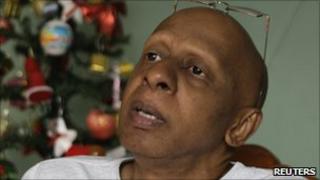 The Cuban authorities detained more than 30 dissidents overnight to stop them organising a demonstration, a human rights group has said.
Among those held was the prominent opposition activist, Guillermo Farinas, who has since been released.
The detentions happened in and around the central city of Santa Clara.
Opposition groups says the communist authorities have stepped up their harassment of dissidents in recent months.
The Cuban government has accused opposition activists of trying to cause disorder to justify aggression by the US.
Mr Farinas said he and others had been planning to hold a march in Santa Clara to demand "the end of the crackdown against opposition activists and the liberation of all political prisoners".
At least seven other dissidents detained at the same time have also been freed and the rest were expected to be released soon, the unofficial Cuban Commission for Human Rights and National Reconciliation (CCDHRN) said.
Repression
Short-term detentions were part of a sustained government campaign of intimidation and harassment of pro-democracy activists, CCDHRN President Elizardo Sanchez told the Associated Press.
The authorities were using "minimal political repression; they are simply neutralising initiatives, nothing more," he said.
Following an agreement with the Catholic Church, Cuban President Raul Castro has released dozens of political prisoners over the past year, with many going into exile in Spain.
But earlier this month the Church said harassment and intimidation of opposition activists by government supporters had continued.
Cuban authorities generally refer to dissidents as mercenaries paid by the US to destabilise the communist system.