Rockhopper optimism on Falklands oil development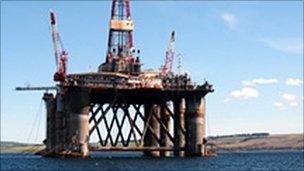 A British company searching for oil off the Falkland Islands in the South Atlantic says it has made further significant finds.
The company, Rockhopper Exploration, said it expected to start pumping oil by 2016.
It said it would need $2bn (£1.3bn) to develop the field.
The search for oil off the Falklands has angered Argentina, which claims sovereignty over the islands it calls Las Malvinas.
On Wednesday Rockhopper said it had found further oil in its Sea Lion prospect, where it announced substantial quantities in March.
The company estimates there are 350m barrels of recoverable oil in the field it has been exploring - enough to turn the Falklands into a significant oil production centre.
It said it expected production to peak at about 120,000 barrels per day in 2018.
It has not said how it plans to fund development, though analysts say partnership with another oil company is a possibility.
Correspondents say the latest announcement is likely to provoke controversy in Argentina, which invaded the Falklands in 1982 before being defeated by Britain in a short war.
It has never given up its claim to the islands, and stepped up its affirmations of sovereignty when oil exploration began.
Last year Argentina said ships sailing from its ports to the Falklands would need a special permit, potentially complicating any oil development.
In June Argentine President Cristina Fernandez de Kirchner called British Prime Minister David Cameron "arrogant" for refusing to negotiate on the Falklands.
Most Falkland islanders want to retain British sovereignty and Mr Cameron has said the issue is non-negotiable.
Related Internet Links
The BBC is not responsible for the content of external sites.