Brazil Tourism Minister Pedro Novais resigns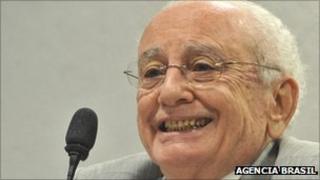 Brazilian Tourism Minister Pedro Novais has resigned over allegations that he misused public funds.
Mr Novais quit after newspaper reports accused him of using public money to employ a maid and a driver for his wife while he was a congressman.
He denies wrongdoing, and says he stepped down to prepare his defence.
He is the fourth minister to leave over corruption allegations since President Dilma Rousseff took office in January. Five have departed in total.
Opposition groups say the resignations show that Ms Rousseff's government is tainted by corruption.
But the government insists corruption has always existed in Brazil - the difference now is that cases are being made public and action is being taken, our correspondent adds.
The resignations have strained Ms Rousseff's governing coalition, which is made up of more than a dozen parties.
Mr Novais, 81, is a member of her largest coalition partner, the Democratic Movement Party of Brazil (PMDB).
The latest accusations against him follow other allegations of corruption at Brazil's ministry of tourism.
Last month more than 30 ministry officials were arrested on charges of misusing public money.
President Rousseff's chief minister, Antonio Palocci, resigned in June after media reports questioned his rapid accumulation of wealth.
Since then, the ministers of agriculture and transport have resigned over corruption allegations. They deny wrongdoing, as does Mr Palocci.
Another minister, Nelson Jobim at defence, also left, after allegedly making disparaging remarks to the media about colleagues.