Brazil judge halts Sao Paulo airport terminal work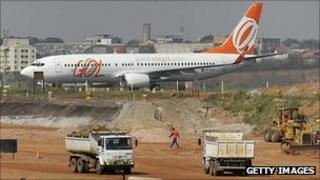 A federal court in Brazil has ordered an immediate halt to work on a new terminal at the main international airport in Sao Paulo.
The judge said the state airport authority ignored the proper bidding process when awarding the contract for the project at Guarulhos airport.
The terminal is designed to double the airport's capacity.
Brazil is trying to boost facilities in time for the 2014 football World Cup and the 2016 Olympic Games.
Correspondents say the latest ruling will worry the Brazilian government.
In her ruling, Judge Louise Vilela Filgueiras Borer said she was ordering a halt to the work because airport authority Infraero had awarded the contract to Delta Constructions without a bidding process.
She said the move represented a "dangerous precedent" for public works in Brazil, allowing regulations to be ignored in the name of urgency.
Infraero says investment in upgrading Guarulhos totals some 1.2bn reais ($700m. £440m) and the work will more than double the airport's annual passenger capacity to 52.7 million by 2014.
The airport authority said it would appeal against the decision to try to get work restarted, Brazilian media reported.
Brazilian air traffic has increased significantly in recent years, fuelled by the country's economic growth.
Construction of a third terminal at Guarulhos, Brazil's busiest airport, has been talked of as a priority since the late 1990s.
A report in April by the government-backed Institute for Applied Economic Research (Ipea) warned that most of the airports being upgraded for the World Cup would not be ready in time.