Guatemala set for run-off vote amid concerns over crime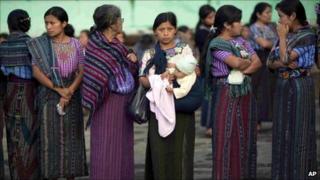 The only certainty that Guatemalans could infer from the slow trickle of Sunday's presidential election results was that uncertainty over who their next president will be is set to linger for another two months.
Retired army general Otto Perez Molina is in the lead, with some 37%, according to results so far.
But by falling short of an outright win, Mr Perez Molina seems set to face Manuel Baldizon, who garnered some 23%, in a run-off election on 6 November.
The campaign in the coming weeks will continue to focus on the two candidates' plans to fight what is widely considered the main challenge for Guatemala's next president: violent crime and the increasing presence of organised criminal groups in the country.
The fact that Mr Perez Molina and Mr Baldizon are both promising a tough approach to tackling crime indicates the importance of the issue to voters.
Guatemala, one of Latin America's poorest nations, has become a key transit point on the drug-trafficking route from South America to the US.
Between 2008 and 2009, the amount of illegal drugs seized in Guatemala doubled, and authorities admit that the violent Mexican Zetas cartel has developed a strong presence in some parts of the country.
Guatemala has a high murder rate - put at 45 per 100,000 in a 2011 World Bank report . Regionally, this compares with 58 in El Salvador and 43 in Honduras, while Nicaragua registers a rate of 14 murders and Costa Rica eight.
Impunity is widespread: according to UN figures, more than 95% of killings go unpunished.
Some observers believe that Guatemala could be on the brink of becoming a "narcostate", given the political influence wielded by organised crime.
Mr Perez Molina, whose campaign symbol is a clenched fist, enjoyed a constant and commanding lead in the opinion polls.
The former military man, who ran unsuccessfully for president in 2007, denies that his "iron fist" approach to fighting crime verges on authoritarianism.
"That is not the case," he told BBC Mundo before the election.
"'Iron fist' summarises in two words the character, the firmness, the leadership and the commitment to face, in all seriousness, the threats that we are facing in Guatemala."
Mr Perez Molina has been accused of involvement in abuses committed by the military during the country's 36-year-long civil war which ended in 1996.
He dismisses those accusations saying that they come from "very small groups that have not been able to show any evidence or win any trial".
Football fever
Businessman Manuel Baldizon hails from the northern region of Peten - the rainforest on the border with Mexico and Belize, seen as a stronghold for drug traffickers.
Mr Baldizon, 41, has strongly denied allegations that he has links to organised crime groups.
He says he will fight crime with firmness, including calling a referendum on reinstating the death penalty for crimes like kidnapping.
Like Mr Perez Molina, he wants to expand the role of the army in combating drug gangs.
But as well as talking tough, Mr Baldizon, who describes himself as a humanist, has promised to continue the social programmes of the current president, Alvaro Colom.
And, in football-mad Guatemala, he has also made the, perhaps rash, promise to ensure that the national football team qualifies for the 2014 World Cup in Brazil.