Mexico rescues oil workers drifting on life raft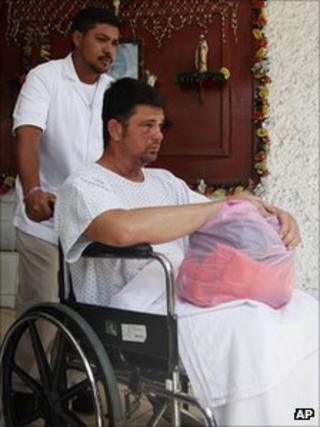 Six oil workers are recovering in hospital after three days drifting on a life raft in the Gulf of Mexico.
Mexican state oil company Pemex said four Mexicans, two Americans and a Bangladeshi were found off Campeche state. The Bangladeshi later died.
Two bodies have also been found while the search continues for a third man.
The contractors evacuated their offshore vessel, known as a liftboat, after it was hit by Tropical Storm Nate.
The Trinity II liftboat was being used by Geokinetics, a Texas-based company carrying out research work in the Gulf of Mexico.
The 10 men on board included four crew members, three Geokinetics employees and three independent contractors, said the company.
Tropical Storm Nate disabled the liftboat, forcing those on board to take to the life raft.
Pemex and the Mexican Navy launched a search for them but efforts were hampered as the storm moved towards the coast of Veracruz.
The seven men were eventually located 51 miles (82km) off the Campeche coast and taken by helicopter to hospital, Pemex said.
Doctors said the six survivors were "stable and conscious" although suffering from bumps, bruises and sunburn.
Nate, which brought high winds and heavy rain to Veracruz, is now weakening as it moves further inland.