Guatemala election: Perez Molina set to face Baldizon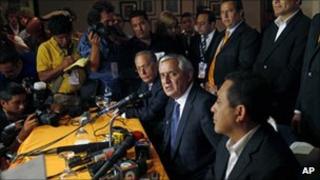 Guatemala's presidential election is set for a second round in November, after front-runner Otto Perez Molina fell well short of an outright win.
Mr Perez Molina, a former army general, won 36% of the vote, while businessman Manuel Baldizon got 23%.
Both candidates have promised to boost spending on security.
The campaign was dominated by rising violence blamed on street gangs and Mexican drug cartels.
Mexican traffickers have expanded operations into the Central American nation, which is an important transit point for drugs smuggled from South America to the US.
Controversial divorce
Mr Perez Molina, running for the right-wing Patriotic Party, focused his campaign message on the need for an "iron fist" to tackle violence.
He had led the opinion polls throughout the campaign but that support did not translate into the 50% plus one vote needed for a first round victory.
But Mr Perez Molina remained upbeat.
"We are confident that in the next round... we will win again and win by a strong margin," he told reporters.
If Mr Perez Molina does win, he will be the first former military man to lead the nation since the restoration of civilian rule in 1986.
Mr Baldizon, of the Renewed Democratic Liberation Party, appears set to be his challenger, with a lead of several percentage points over third placed Eduardo Suger.
Mr Baldizon has also promised a tough stance on crime.
He has advocated creating a new national guard and supports the introduction of the death penalty for the most serious crimes.
The winner will succeed Alvaro Colom, whose former wife Sandra Torres had hoped to run.
The couple were divorced in the months before the election. But despite this, Guatemalan judges ruled that Ms Torres's candidacy still violated a ban on close relatives of the president running for the post.
Guatemala is one of the poorest nations in Latin America
It suffers the highest rate of child malnutrition in the region - half of all children under five are malnourished.