Peru's president approves indigenous consultation law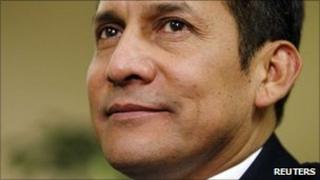 Peruvian President Ollanta Humala has approved a law giving indigenous communities the right to be consulted about development on their lands.
Mr Humala enacted the law in Bagua, an Amazon region where more than 30 people were killed in 2009 during protests against oil and mining projects.
He said it would ensure indigenous Peruvians were treated as full citizens.
A similar law was blocked by the previous President, Alan Garcia.
Hundreds of indigenous tribesmen gathered in Bagua to see Mr Humala sign the consultation law.
Wearing an indigenous headdress, he said it was "an important step towards building a republic that respects all its nationalities".
Economic boom
The law requires companies to seek agreement with rural communities for projects that effect them or their ancestral territories, but does not give the communities the right of veto.
Former President Garcia repeatedly blocked an earlier version of the law, saying it would deter investment and allow minority groups to block development that would benefit all Peruvians.
But Mr Humala insists the law will encourage investment by reducing social conflict, and has won backing from business groups.
A commodities boom has made Peru one of the world's fastest growing economies, with $50 billion (£30 billion) of investment expected over the next decade.
But the boom has provoked frequent conflict, as mining and oil companies encroach on the ancestral lands of indigenous communities in the Amazon and the Andes.
Ollanta Humala was elected in June after promising to ensure poor Peruvians saw more benefit from the development of the country's natural resources.
Last month his government reached an agreement with mining companies under which they will pay an additional tax on profits worth about $1 billion (£600m) a year.