Mexico 'Twitter terrorism' charges cause uproar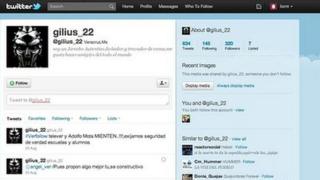 What began as a few messages on social networks Twitter and Facebook has grown into a heated debate about freedom of speech in Mexico - and could see two Mexicans spending a long stretch behind bars.
The two, who live in the eastern state of Veracruz, could face up to 30 years in prison after being accused of terrorism.
Their case has provoked an outcry from human rights groups and civil liberties advocates, in the midst of soaring violence blamed on organised crime in some parts of Mexico.
It all started on 25 August, when Gilberto Martinez Vera and Maria de Jesus Bravo Pagola allegedly posted information saying that shootouts and kidnappings by drug gangs were happening near schools in Veracruz, the state's biggest city.
"I can confirm this, at the Jorge Arroyo school in the Carranza district, five children have been taken away by an armed group. Total psychosis in the area," Mr Martinez Vera, a 48-year-old teacher, is said to have tweeted.
He went on to say that he had confirmation of the kidnappings from his sister-in-law whose children attended the school.
At the same time, according to the authorities, Ms Bravo Pagola, a former government official, allegedly wrote that a helicopter had opened fire at another school while the children were on their break.
"Confirmed and corroborated," her Facebook post, which is no longer accessible, reportedly said.
Alien invasion
None of those events turned out to be true - no kidnappings, no shootout, but panic ensued in the streets of Veracruz - and the authorities say the pair were responsible.
More than 20 car accidents happened amid the hysteria, said Gerardo Buganza, the Veracruz interior secretary.
People "left their cars in the middle of the streets to run and pick up their children, because they thought these things were occurring at their children's schools", he said.
It was worse, he said, than the panic that followed The War of The Worlds radio broadcast by Orson Welles in 1938, which led people to believe Martians had invaded New Jersey.
The rumours about the drug gang attacks so angered Veracruz Governor Javier Duarte that he tweeted that he would be seeking terrorism charges against Mr Martinez Vera and Ms Bravo Pagola.
On 26 August, they were arrested and charged with "terrorism and sabotage".
They insist they are innocent and that they were resending information that was already circulating on social networks.
The local chapter of Amnesty International said that the detention of the two was "unfair and violates their right to justice and freedom of expression".
Thousands of people have vented their anger on social networking sites and several local human rights groups have called for the charges to be dropped.
"The government of Veracruz is acting in a totalitarian and authoritarian manner," their lawyer, Fidel Guillermo Ordonez, told the BBC.
"They are trying to push ahead with an exemplary punishment, because many people in Veracruz are giving their opinions about what is happening in the state," he said.
Information vacuum
Over the past few months, Veracruz has seen a rising number of violent clashes between drug gangs and the security forces.
In Veracruz and other parts of Mexico, more people have been turning to sites like Twitter and Facebook to post or seek information about violence - and how to avoid trouble.
"There are cities in Mexico in which people do not go out if they haven't first checked social networks," said Jesus Robles Maloof, a human rights activist.
"Mass media have silenced their reporting of violent situations, either because they have been threatened or because they've chosen self-censorship," Mr Robles Maloof believes.
And he says the information vacuum from traditional media is exacerbated by a lack of information from local authorities.
It took local authorities "three hours to confirm that everything was in order", Mr Robles Maloof says.
On the same day as panic erupted in Veracruz, far more deadly scenes were being played out in the northern city of Monterrey where an arson attack on a casino killed 52 people.
President Felipe Calderon called this was an act of terror and the work of "true terrorists".
It was the first time Mr Calderon had used such language in the drugs conflict, which has claimed almost 40,000 lives since late 2006.
For Mauricio Meschoulam, an expert on security and international relations, that was an unwise escalation in the use of language.
"(Using the word terrorism) generates fear in people, who are afraid that civil liberties will be curtailed in the name of public security," Mr Meschoulam told the BBC.
Mr Meschoulam is equally convinced that what happened in Veracruz is far from being terrorism.
"It's not cyberterrorism. What is it? Provoking panic like shouting 'Fire' inside a cinema. It can be called thousands of names, but not terrorism."
But the Veracruz authorities say they are determined to prosecute those who provoked fear among the public.
"The punishment for those who caused damages is not because they are Twitter users, but for the consequences that their irresponsible acts provoked," Governor Duarte wrote on his Twitter account.