Haiti anger over alleged Uruguay UN rape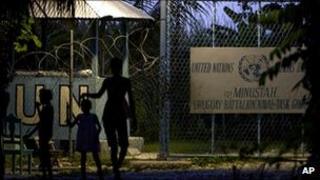 Haitian President Michel Martelly has condemned the alleged abuse of an 18-year-old man by Uruguayan peacekeepers, and demanded a full investigation.
Mr Martelly said the Haitian man had been subjected to a "collective rape".
Five Uruguayan marines were detained after a video clip of the alleged abuse appeared on the internet, and their commanding officer was sacked.
The Uruguayan government has said it will open a criminal case against the marines in a Uruguayan court.
The UN mission in Haiti (Minustah) and the Haitian authorities are also investigating.
Revulsion
The case has provoked widespread public anger in Haiti, and there have been protests outside the UN base.
"The presidency vigorously condemns this act, which revolts the conscience of the nation, and awaits a detailed report establishing the facts," Mr Martelly's office said in a statement.
The alleged victim and his mother have told Haitian radio stations that he was raped by the Uruguayan marines in the UN base at Port Salut.
They have also given evidence to Haitian police and a local judge.
The UN mission in Haiti said it was taking the allegations "very seriously".
"For now, we cannot say whether it was a case of rape or not," Minustah spokesperson Eliane Nabaa told Reuters news agency.
"Only the investigation will determine that and the investigation is still underway," she said.
In Uruguay, presidential spokesman Alberto Breccia said a criminal case would be brought by a Uruguayan court.
"All cases of apparent crime by Uruguayan troops must be judged by national courts," he said.
Uruguayan Defence Minister Eleuterio Fernandez Huidobro was due to brief parliament on the case on Tuesday.
The video clip of the alleged incident, shot on a mobile phone, has been widely shown on Uruguayan television.
Controversy
Uruguay is one of the main contributors to the 12,000-strong UN force, which first arrived in Haiti in 2004.
The peacekeepers were brought in to restore order following the overthrow of President Jean-Bertrand Aristide, and its mandate was extended after the devastating earthquake in January 2010.
But Minustah has also drawn controversy, including allegations of excessive use of force.
Last year there were widespread protests after Nepalese peacekeepers were accused of being the source of a cholera epidemic which has killed more than 6,000 Haitians.
President Martelly has acknowledged that Haiti still needs the peacekeepers, but wants their security role reduced and eventually replaced by a Haitian force.
He is still struggling to form a government, five months after winning power in a UN-backed election.