Uruguayan peacekeepers in Haiti accused of abuse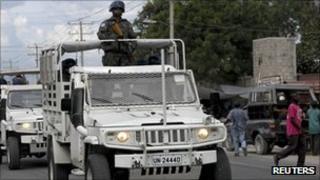 Uruguay has ordered the recall of five of its peacekeepers from Haiti, amid allegations that they were involved in the sexual assault of a young local man.
The head of Uruguay's naval contingent in Haiti has also been relieved of his post over the alleged incident.
Uruguay acted after a video clip appeared on the internet, which purported to show the abuse.
It is the latest controversy involving UN peacekeepers in Haiti.
The Uruguayan military said it was taking "severe and exemplary measures" to deal with the allegations, and that it would apply the maximum penalty if the accused men were found guilty.
'Zero tolerance'
Uruguay, which has 1,200 military personnel in the UN mission in Haiti, was prompted to act after a video clip of the alleged abuse appeared on the internet.
In the short clip, which was recorded on a telephone, several men in uniform are heard to laugh as they hold down an 18-year-old man on a bed during what appears to be a sexual assault at a UN base in southern Haiti.
A spokeswoman for the United Nations mission in Haiti (Minustah) told the BBC that it had immediately ordered an investigation by its military police.
"The United Nations has a zero tolerance policy towards misbehaviour, or sexual exploitation or abuse," Eliane Nabaa said.
"We have taken these allegations extremely seriously, and if the allegations are proved, the perpetrators must be brought to justice."
Last week, Uruguay's Defence Minister, Eleuterio Fernandez Huidobro, ordered an urgent investigation into the allegations of what he called "aberrant acts" by peacekeepers in Haiti.
Haitian officials are conducting their own inquiry, led by an investigating magistrate.
His investigation will also look into cases where young Haitian females are believed to have been made pregnant by UN peacekeepers.
Protests
The Minustah force first arrived in Haiti in 2004 to deal with the instability which followed the ousting of Jean-Bertrand Aristide.
But it has drawn controversy, including allegations of excessive use of force by peacekeepers.
Last year there were widespread protests after Nepalese peacekeepers were accused of being responsible for a cholera outbreak, which may have killed as many as 6,000 in Haiti.
The mandate of the UN mission in Haiti was extended again following last year's earthquake, in which tens of thousands died and hundreds of thousands remain in temporary shelter.
Meanwhile, President Michel Martelly has been struggling to form a government since he came to power earlier this year.