Chilean air force plane crashes in Pacific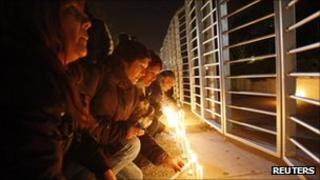 Twenty-one people are feared dead after a Chilean air force plane crashed in the Pacific Ocean on its way to the remote Juan Fernandez islands.
Chilean Defence Minister Andres Allamand said the Casa-212 plane had twice tried to land at the islands' airport before going missing.
The islands' mayor said conditions were rough and windy, and passengers' luggage had been spotted in the water.
A TV crew was on board, including popular presenter Felipe Camiroaga.
He had been flying to the islands with a five-strong crew from Chile's national TV programme Buenos Dias a Todos - Good Morning Everyone - to film a piece on reconstruction projects after a magnitude-8.8 earthquake and tsunami devastated the islands in February 2010.
The air force earlier said that as the plane was "getting closer to the island, radio communication with the airplane was lost", prompting a search effort by the navy and air force.
'Hard blow'
Mayor Leopoldo Gonzalez told state television TVN that some wreckage had been spotted, suggesting that the plane had crashed.
"We assume that there was an accident and that there are no survivors," he said, adding that clothing, passengers' suitcases and some sandals had been found in waters about one kilometre (0.6 mile) from the islands' landing strip.
Mr Allamand, however, said the plane was still listed as "missing".
He said a navy frigate had been sent with a helicopter to carry out search and rescue work, and that a Hercules 130 plane was due to join the search.
Chilean President Sebastian Pinera said that his thoughts were with the families of those on board the plane, which had taken off from the capital Santiago at 14.00 (17.00 GMT) on Friday and lost contact with air traffic control some four hours later.
"I empathise with the anguish and uncertainty the relatives the 21 passengers aboard the plane, which is presumed to have gone down, are living through at this moment.
"This is a very hard blow for our country," he said.
One of those on board was the businessman Felipe Cubillos - Defence Minister Allamand's brother in law - who had also been working on post-earthquake reconstruction with the group Desafio Levantemos Chile.
Chileans gathered at the headquarters of TVN after the Santiago station reported that five of its staff, including Mr Camiroaga, were among the passengers.
Dozens of people lit candles and prayed outside the gates, Reuters news agency reports.
As well as co-hosting Buenos Dias a Todos, Mr Camiroaga, 44, fronted the late-night talk show Animal Nocturno (Nocturnal Animal).
The Juan Fernandez islands lie around 420 miles (670 km) off Chile's coast, and are thought to have inspired the setting for Daniel Defoe's classic shipwreck novel Robinson Crusoe.