Chilean police officers dismissed after fatal shooting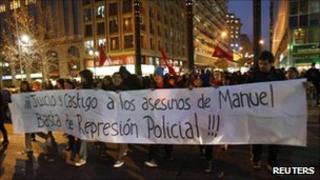 Five Chilean officers have been dismissed after police admitted that a bullet which killed a teenage boy came from a police weapon.
Manuel Gutierrez Reinoso, 16, was shot last week during anti-government protests in the capital, Santiago.
It was the first fatality in months of social unrest in Chile, which has involved protests on many issues.
A police general who initially denied that his officers were involved has been ordered to resign.
Witnesses insisted that the boy was shot by the police.
Investigators said that tests showed that the bullet which killed the boy came from a gun fired by a police sergeant, Miguel Millacura.
Up to that point, the police had denied any involvement in the boy's death.
Sgt Millacura had said he had fired in the air. He is expected to be charged later on Tuesday.
Another four officers have been dismissed and a police general, Sergio Gajardo, who had ruled out an internal inquiry into the shooting, has been asked to step down.
Chilean President Sebastian Pinera had earlier said the government was doing everything possible to shed light on the circumstances of the teenager's death.
The protests in Chile were initially triggered by students demanding educational reform but have grown into a more general movement demanding constitutional reform, improved pension provision, new labour laws and corporate tax increases to pay for education and health.