Mexico football match abandoned after gunfire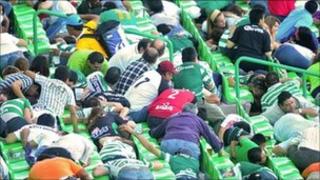 A first division football match in Mexico was abandoned because of a gun battle just outside the stadium.
Players from Santos Laguna and Monarcas Morelia ran to the dressing rooms and fans dived for cover as shots rang out in the northern city of Torreon.
The players were in the 40th minute of their scoreless match on Saturday when pandemonium broke out.
Gunmen had opened fire on members of the security forces at a checkpoint, injuring one policeman.
About 20,000 fans were watching the game at the TSM, home of Santos, but no-one was hurt inside the stadium.
The authorities said the shooting began after three vehicles with armed men failed to stop.
Santos chairman Alejandro Irarragorri, accompanied by his goalkeeper, went on to the pitch to make an announcement.
He told the crowd: "In the Santos club, we feel bad for the time in which we are living. It is evident that the game will be suspended.
"You can be assured that we will try to control these situations. We are sorry for Morelia, the referees and those who are visiting us from elsewhere."
Drug-related violence in northern Mexico has claimed thousands of lives in the past few years but it is not clear if this shooting was linked to organised crime.
More than 35,000 Mexicans have been killed in drug-related violence since President Felipe Calderon began deploying troops to fight the drugs cartels in December 2006.
It is thought this is the first time a football match in Mexico's top-flight division had to be abandoned due to violence since Mr Calderon became president.
Last year, a baseball game was suspended in the north-eastern border city of Reynosa because of a similar incident.