Indigenous Bolivians march against Amazon road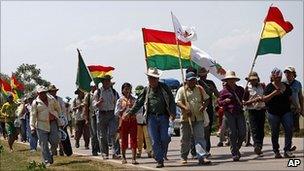 Hundreds of Amazonian Indians in Bolivia have begun a long march in protest at the construction of a road through a pristine rainforest reserve.
Activists say the road will encourage illegal settlement and deforestation.
Isiboro-Secure National Park is home to several isolated tribes.
The protest is an embarrassment for President Evo Morales, who is a prominent advocate of indigenous rights and the protection of "Mother Earth".
His government says the road is vital for national integration, and insists there will be environmental safeguards.
More than 500 protesters from a range of indigenous groups began the march in the Amazon city of Trinidad.
"We do not want dialogue, we want them to respect us as indigenous peoples," said Pedro Vare, the head of the regional indigenous organisation CPIB.
The protesters plan to walk all the way to La Paz - Bolivia's main city in the Andean highlands - a 500km (310 mile) journey they expect will take a month to complete.
The highway between the highland city of Cochabamba and San Ignacio de Moxos in the Amazon lowlands is being funded by Brazil and built by a Brazilian company.
It will help connect the Southern Brazilian Amazon with ports on the Pacific coasts of Peru and Chile.
The road passes through the heart of Isiboro-Secure Indigenous Territory and National Park (Tipnis), a rainforest region of exceptional biodiversity.
The area is home to communities of Chiman, Yurucare and Moxos Indians who live by hunting, fishing and farming in the rainforest.
Environmental groups and indigenous activists say the road will open the region up to illegal logging, as well as settlement by farmers from the highlands who grow coca leaf - the raw material for illegal cocaine.
They also say the government has failed to meet its constitutional duty to consult indigenous groups about development on their ancestral territory.
The government says the route will promote much needed development, and says it will take measures to protect the rainforest.
"If we wanted to destroy the park and wipe out nature we would concrete over the whole park - that is not what we are going to do," said Vice-President Alvaro Garcia Linera.
"The highway will only cross the park, we will not allow any land exploitation around it," he added.
President Morales says he is prepared to talk to indigenous leaders, but will not halt construction.
The march is the latest in a series of challenges Mr Morales is facing from indigenous groups and social movements that helped make him Bolivia's first indigenous president.
He also faces criticism from environmental groups who say his policies in Bolivia contradict his international profile as a defender of what he calls "Pachamama" or "Mother Earth".
Related Internet Links
The BBC is not responsible for the content of external sites.