Chile President Sebastian Pinera proposes civil unions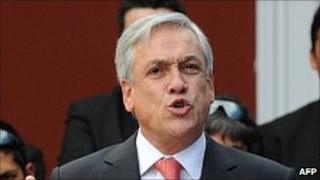 Chilean President Sebastian Pinera has proposed legislation that would allow same-sex couples to enter into civil unions.
The bill would give homosexual couples and unmarried heterosexual couples the same inheritance and social welfare rights as married partners.
Gay right activists welcomed the bill which needs to be approved by Congress.
But leaders of the president's centre-right coalition refused to attend the proposal's signing ceremony.
In a speech at the presidential palace, President Pinera said all couples "deserved respect, dignity and support of the state".
Unmarried couples and homosexual couples would have to sign a document at a registrar's office to qualify for inheritance and certain social welfare and health care benefits.
The Roman Catholic Church in Chile is opposed to the bill, as are some members of the coalition led by President Pinera.
Chile only legalised divorce in 2004. It is estimated that some two million people live together without marrying.
President Pinera insisted the initiative did not change the concept of marriage but just put homosexual civil unions on a more equal legal footing.
"I deeply believe that marriage is by nature between a man and awoman, but that conviction does not prevent me from recognising that other forms of affective relationships exist," he said.
Opposition to wider definitions of marriage than that between a man and a woman is widespread in Chile.