Sandra Torres bid for Guatemala presidency squashed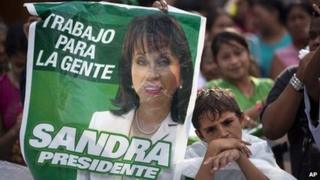 Guatemala's constitutional court has ruled that former first lady Sandra Torres is ineligible to run in September's presidential election.
Ms Torres divorced President Alvaro Colom earlier this year to overcome a constitutional ban on close relatives of the president running for the job.
But the court ruled that her candidacy still violated the constitution.
Opinion polls suggest retired general Otto Perez Molina of the right-wing Patriotic Party is favourite to win.
Sandra Torres, who is Mr Colom's third wife, confirmed her intention to separate from her husband of eight years in a tearful address to the nation in March.
She said she and Mr Colom were putting their love for Guatemala ahead of their "great and solid" love for each other.
But the opposition accused her of a "cynical political ploy" and launched legal challenges.
Violence
Ms Torres appealed to the constitutional court to allow her to participate in the election.
"You have before you a single woman, who has no ties of kinship to the president of the republic," she said.
"It is not fraud to take a personal decision".
The judges on Wednesday made no ruling on whether her actions constituted fraud.
But they agreed that despite her divorce, Ms Torres' candidacy still violated the constitution.
Ms Torres played a prominent role in Mr Colom's presidency, supervising the government's poverty relief programmes.
But opinion polls consistently put her well behind former general Mr Perez Molina, who promises a tough stance against rising crime.
Guatemala, one of the poorest nations in Latin America, is beset by gang violence and increased drug-trafficking operations on its territory.
It suffers the highest rate of child malnutrition in the region - half of all children under five are malnourished.