Remote Brazilian tribe threatened by 'drug dealers'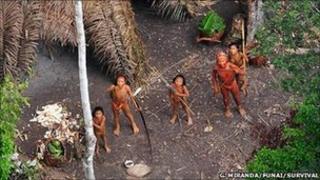 Guards in the Brazilian jungle protecting a tribe of Indians who have had no contact with the outside world say their guard post has been attacked by armed men.
Brazil's Indian Affairs Department said a guard post in Acre state had been surrounded by suspected drug dealers.
It said it feared the men wanted to traffic drugs from Peru into Brazil through the area where the tribe lives.
The tribe was first photographed from the air three years ago.
The five people manning the post said they were surrounded.
"They're coming at us from three sides, we have nowhere to run," Carlos Lisboa Travassos, the head of the Brazilian government's Isolated Indians Department, told local media via e-mail.
The post is on the shores of the Xinane river, just 23km (15 miles) from the Peruvian border, but more than 200km from the nearest Brazilian city.
It was set up by Brazil's Indian Affairs Department (Funai) to protect the tribe of Panoan Indians after they were first filmed from the air in 2008.
Broken arrow
Mr Travassos said he was worried about the tribe.
He said that on Saturday the guards found a rucksack belonging to one of the armed men which contained a broken arrow, most likely seized from members of the tribe.
"Arrows are like the identity card of uncontacted Indians," said Mr Travassos.
"This situation could be one of the biggest blows we have ever seen in the protection of uncontacted Indians in recent decades."
It is not clear why the armed gang had attacked the post, but local media say the men, believed to be from Peru, could be crossing through the tribe's territory while smuggling drugs into Brazil.
There are also reports that they could be trying to clear the area to grow coca, the plant from which cocaine is derived.
Anthropologist Terri Aquino, who is one of the five people at the Xinane post, said they had received no back-up from the police or the army, but that a group of Ashaninka and Kaxinawa Indians had joined them to help defend the territory.