Chile marks year since mine collapse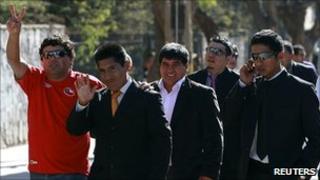 Chile has held ceremonies to mark the anniversary of the mine collapse that left 33 men trapped for 69 days.
President Sebastian Pinera joined most of the miners at a religious ceremony in the town of Copiapo to give thanks for their rescue.
The San Jose mine collapsed on 5 August 2010, cutting off the miners at a depth of more than 700m (2,300ft).
The last miner was winched to safety on 14 October after a 22-hour televised rescue that gripped the world.
Several of the miners carried an image of the Virgin Mary to the Cathedral in Copiapo, where the thanksgiving service took place.
Unity
Luis Urzua - the shift leader and last man out of the mine - paid an emotional tribute to all those involved in the rescue.
"Thank you for giving us life again. Thank you Mr President for the effort, for saying: yes we can," he said.
"Thanks for the unity that 17 million Chileans showed".
President Pinera also hailed the sense of national unity and purpose the mining rescue evoked in Chile.
"A year ago, faith moved mountains," he wrote on his Twitter account.
"All Chile united, full of hope, to find and rescue our miners".
After the ceremony President Pinera and the miners went to a local museum where the Phoenix II capsule - used to haul the men to safety - was put on display.
Mr Pinera also handed back the now-famous note which first alerted rescuers to the fact that the trapped men were still alive.
Written by the miner Jose Ojeda, it reads "We are all well in the refuge, the 33 of us".
The events were the first of several anniversaries, culminating in a huge celebration on 13 October to mark the start of the final rescue operation.
Millions watched on TV as they emerged one by one from underground through a narrow shaft drilled by the rescue teams.
Legacy
The dramatic rescue made the miners instant celebrities.
But a year on, most are still struggling with the psychological consequences of their ordeal, and many are still out of work.
The miners are suing the Chilean government and the now-bankrupt mining company for compensation.
The government says mining safety has improved greatly since the accident.
The mining minister, Hernan de Solminihac, told the BBC that improved training and more frequent inspections had halved the number of fatal mining accidents in the first six months of the year, compared to 2010.
"This accident was a lesson for us and we are working very hard since then to improve the safety of our industry," he said.