Mexico town's police force resigns over drug attacks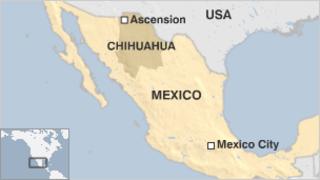 The entire police force of a town in northern Mexico has resigned after two officers were killed by suspected drug traffickers.
The mayor of Ascension in Chihuahua state said the 26 officers quit their posts for fear of further attacks.
State and federal police as well as soldiers have been called in to patrol the town in their place.
Ascension lies on an important drug smuggling route into the US used by the powerful Sinaloa Cartel.
Local police have been the target of several attacks in recent weeks.
"The officers were afraid and resigned," said town Mayor Jaime Dominguez Loya.
Chihuahua is one of the states worst hit by the drugs-related violence afflicting Mexico and includes Ciudad Juarez - the most violent city in the country.
In 2009 the entire police force of another town in the state - Villa Ahumada - resigned after attacks by suspected drugs gangs.
An estimated 40,000 people have died in drug-related violence in Mexico since December 2006, when President Felipe Calderon began deploying troops to fight the cartels.