Tropical Storm Emily breaks up over Haiti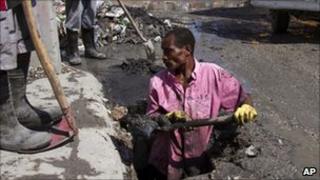 A tropical storm that has been lashing Haiti and the Dominican Republic with intense rain has broken up.
The US National Hurricane Center (NHC) said Storm Emily lost force as it moved across the mountains of Hispaniola - the Caribbean island the two nations share.
The storm brought flooding to parts of Haiti's south coast.
But camps housing hundreds of thousands of people made homeless by last year's earthquake have so far been spared.
The storm dissipated into a trough low-pressure, the NHC said, but was still capable of causing life-threatening landslides and flash floods.
Red alert
The Haitian authorities had issued a red alert and urged people to leave camps around the capital, Port-au-Prince, many of which stand on vulnerable hillsides.
Flights were cancelled and government buildings closed as the storm approached.
Forecasters said 15-30cm (6-12in) of rain could fall, with up to 50cm possible in some regions.
In the Dominican Republic, 5,000 people were evacuated from areas at risk of flooding, but the government has discontinued its tropical storm warning.
Storm warnings have also been lifted in Cuba and the Bahamas.
Vulnerable
Extensive deforestation and poor infrastructure make Haiti particularly vulnerable to heavy rain.
In June, more than 20 people were killed by mudslides and flash floods.
Haiti is also still struggling to recover from the January 2010 earthquake.
President Michel Martelly took office in May but has not yet managed to form a government, complicating aid efforts.
According to the International Organization for Migration, some 634,000 Haitians still live in camps, although other estimates of what is a necessarily fluctuating population put the figure at 375,000.
On Tuesday, Haitian lawmakers voted against Mr Martelly's new choice of prime minister, Bernard Gousse, following their rejection in June of his first pick, Daniel-Gerard Rouzier.
President Martelly needs a prime minister in order to assemble a government that can work with international agencies involved in the task of rebuilding after the quake.
The lack of an administration is also hampering emergency planning to cope with future disasters.