Mexican police search for nine missing pollsters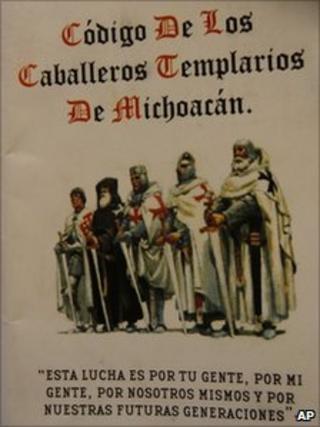 Police in Mexico are searching for nine employees of polling firms who have gone missing in the west-coast state of Michoacan.
They have disappeared in recent days near the city of Apatzingan, where they have been conducting surveys ahead of state elections in November.
The city is a stronghold of a drugs cartel calling itself the Knights Templar.
On Monday police arrested an alleged leader of the cartel in Apatzingan.
The state attorney general's Office said three out of a group of 36 pollsters working for the Mitofsky polling firm had failed to return from their assignment near Apatzingan on Saturday.
Three others went out to search for the missing and also disappeared, the officials said. Among them is one woman.
On Monday another polling firm, Parametria, reported three of its workers missing in the same area.
It is not clear when the Parametria workers were last seen.
The attorney general's Office said it so far had no clues as to their whereabouts.
Spreading violence
The area has seen a rise in violence blamed on the break-up of the area's powerful cartel, La Familia Michoacana.
Officials say the killing by the security forces in December of the gang's leader, Nazario Moreno, has severely weakened La Familia.
But analysts say the Knights Templar, an offshoot of the cartel, has taken over many of La Familia's operations.
Apatzingan is at the centre of the battle between the two factions for control of the area's methamphetamine production.
On Monday, police arrested Nery Salgado Harrison, whom they accuse of overseeing the methamphetamine production for the Knights Templar.
Some 40,000 people have died in drug-related violence since President Felipe Calderon began deploying troops to fight the cartels in late 2006.
The violence used to be concentrated on the northern border region but since 2010, has been spreading into other parts of the country.