Deaths from bootleg liquor continue to rise in Ecuador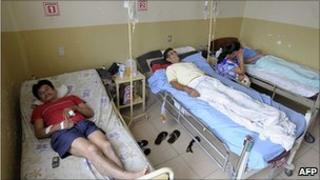 The number of people who have died in Ecuador after drinking adulterated liquor has risen to 33.
Twenty people died two weeks ago in Los Rios province, where barrels of bootleg alcohol containing methanol were found.
Officials subsequently banned the sale and consumption of alcohol nationwide for three days to allow police to check for and confiscate other supplies.
But the Ecuadorean health authorities now say there have since been another 13 fatal cases across the country.
Officials said 103 people had been treated in Los Rios for symptoms ranging from nausea, abdominal cramps, blurred vision, profuse sweating and loss of consciousness.
The officials said of that first intake of patients, 19 had died.
All had drunk bootleg alcohol during festivities celebrating the local patron saint.
Police seized 28 alcohol containers in Los Rios, some of which contained methanol, a toxic alcohol.
Lethal dose
The authorities imposed a dry law in Los Rios province, but doctors soon reported patients with similar symptoms in the capital, Quito, and in central Tungurahua province.
Officials said that in the Tungurahua cases they were able to trace the contamination to a wine sold in cartons and labelled only as "Tempting Wine".
But the health ministry said in a statement that it suspected the adulterated alcohol had been distributed across the country.
A total of 222 people have been treated for suspected alcohol poisoning and the health ministry urged anyone exhibiting symptoms to seek help immediately.
Two glasses of contaminated liquor were enough to kill a person, it warned.