Panama police seize more than half a tonne of heroin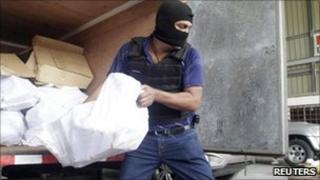 Police in Panama have seized more than half a tonne of heroin - one of the biggest ever drug hauls in the country's history, officials say.
Officers found hundreds of plastic packages of the drug in a car in the remote Caribbean coastal town of Jobea.
The packages were ready to be shipped to other countries, the country's anti-drugs prosecutor said.
Gangs are increasingly using Central America to traffick drugs from South America to the US and Europe.
Announcing the heroin seizure on Monday, Javier Caraballo, Panama's anti-drugs prosecutor, said the consignment was put at 639kg.
Three people were arrested in the operation, which took place in the province of Colon at the weekend.
Mr Caraballo said another police operation near the capital, Panama City, had netted an estimated 468kg of cocaine.
So far this year, Panamanian officials have seized 22 tonnes of drugs originating in South America and destined for the US and Europe, Panamanian newspaper La Prensa reports.
The UN's latest World Drug Report says that in 2009, drugs seizures in Panama were the third largest in Latin America and the Caribbean, put at 53 tonnes.