Honduras finds 2.5 tonnes cocaine in submarine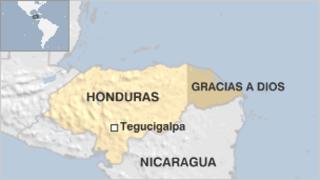 Naval forces from the US and Honduras have recovered 2.5 tonnes of cocaine from a semi-submersible craft intercepted off the Honduran coast.
Honduran General Rene Osorio said there were more than five tonnes of cocaine on the vessel, and authorities would need two days to retrieve all of it.
The vessel is submerged because the crew tried to sink it after they were intercepted two weeks ago.
Honduras is on a key route used by cartels trafficking drugs to the US.
Coast guard officials intercepted the submarine-like craft off the Caribbean coast of Honduras near the province of Gracias a Dios.