Ollanta Humala is sworn in as new Peru president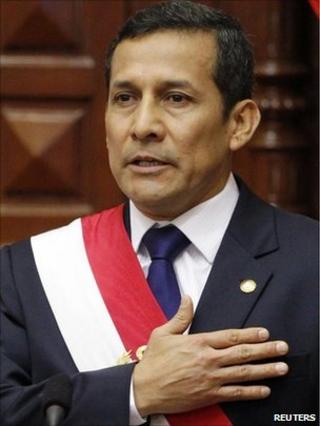 Former army officer Ollanta Humala has been sworn in as Peru's new president, vowing to eradicate poverty and social exclusion.
His inauguration was being attended by regional leaders, although not by outgoing President Alan Garcia.
Mr Humala defeated right-wing candidate Keiko Fujimori in June's second round.
Once a fiery nationalist, Mr Humala says his approach is now of the moderate left, modelled on Brazil's ex-president Luiz Inacio Lula da Silva.
Mr Garcia left the presidential palace, handing over the sash for his successor.
Breaking with tradition, he did not travel to Congress to attend the inauguration.
Mr Garcia had previously indicated he would not be present in order to avoid a repeat of 1990 when he was loudly booed when handing over to President Alberto Fujimori.
Then Peru was mired in hyperinflation and beset by a bloody leftist insurgency.
Mr Humala, 49, inherits a more prosperous Peru but faces a range of challenges.
In his first address as president, he vowed to keep existing free-market economic and trade policies intact, to provide a minimum pension for all Peruvians over 65 and to raise the minimum wage.
"We want the term 'social exclusion' to disappear from our language and lives forever," Mr Humala said.
"Economic growth and social inclusion will march together."
Mr Humala campaigned on a pledge to increase the state's role in the economy and redistribute wealth to Peru's poor majority.
Strong performance
Economists Luis Miguel Castilla and Julio Velarde will be the new finance minister and central bank head respectively.
Sociologist Rafael Roncagliolo is to be foreign minister, while Afro-Peruvian music star and Grammy award-winner Susana Baca will be minister of culture.
Mr Humala indicated that he would seek to impose a windfall tax on the key mining sector to help raise revenue for social spending.
But with his party lacking a majority in Congress, he will need the support of other blocs to pass bills, including the mining tax.
Peru has been one of the top economic performers in Latin America in recent years, averaging annual growth of 7% during Mr Garcia's second term and with inflation held at under 3% a year.
But there has also been an increase in social tension and conflicts, especially over the exploitation of natural resources.
Protests, at times violent, have erupted over mining, logging and oil and gas extraction.
Another key issue facing Mr Humala is increased illegal drug production and trafficking.
Peru sees the US as a "strategic partner" in tackling this, Mr Humala has said.