Mexico prison shooting: Police row over response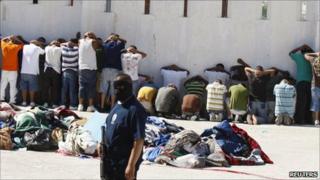 Police in one of Mexico's most violent cities, Ciudad Juarez, have accused federal colleagues of firing at them during a deadly prison riot.
City police chief Julian Leyzaola told reporters his armoured vehicle had been shot at by up to 16 federal police officers as he approached the jail.
But the federal government accused him of breaking through a cordon.
Seventeen people died when one group of inmates reportedly attacked rivals from another drug gang inside the jail.
A spokesman for the city's authorities told the BBC the attackers had used weapons seized from prison guards to carry out the massacre on Monday night.
Further revelations on Wednesday suggested weakness, disorganisation and possible corruption at the jail close to the US border.
It took security forces several hours to regain control.
'Third clash'
"I saw a federal officer in front of my sport utility vehicle firing at me and in turning to a side, there was a group of between 10 and 15 federal officers firing at my vehicle," said Mr Leyzaola, who was uninjured.
In response, the federal public safety department issued a statement to say federal police had opened fire because Mr Leyzaola had refused to stop and identify himself.
"During an operation to prevent an escape of prisoners, he broke through the security cordon and, acting against security protocol, went through a checkpoint without stopping," the statement said.
"And for this reason his vehicle was fired upon to make it stop."
When the authorities finally regained control of the prison, they found 17 people dead, two inmates with gunshot wounds and 72 others with lesser injuries.
It is believed to be the third clash between federal and local police in the city since the start of the year.
Damning video
Federal police added that two females, including a woman killed in the fighting, were found inside the prison.
Local TV footage seen by the Associated Press news agency suggests guards may have actually allowed the bloodbath to happen.
The footage reportedly shows hooded, armed inmates talking with guards, who then leave the area before inmates grab cell keys, open a door and apparently fire on those inside with a machine pistol and an assault rifle.
Julio Cesar Castaneda, a spokesman for the Chihuahua state prosecutor's office, said it was investigating reports that even more women had entered the prison for a party held by members of one of the city's street gangs, and that most had left after the fight.
The office was also investigating reports that some prison employees may have attended the party.
Federal security spokesman Alejandro Poire called for changes at the city-run prison, saying security at state and local jails across Mexico should be "reviewed and strengthened".