Mexico prison shooting: 17 dead in Ciudad Juarez clash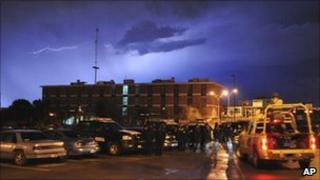 Mexican officials say at least 17 people have been killed and another four injured in an armed clash in a prison in the city of Ciudad Juarez.
A spokesman for the city's authorities told the BBC that one group of inmates attacked rivals from another drug gang on Monday night.
He said they used weapons they had seized from prison guards.
The spokesman denied press reports that the prisoners had attempted to break out of the jail.
It took security forces several hours to regain control.
Anxious relatives gathered outside the jail, known locally as the "Cereso", a shortened form of its full Spanish name - the Social Rehabilitation Centre for Adults.
At least one woman was among those killed. The prison holds about 2,500 inmates.
Ciudad Juarez, on the Mexico-US border, is one of the world's most violent cities.
The BBC's correspondent in Mexico, Julian Miglierini, says the city accounts for some 20% of the total number of deaths caused by the country's drug conflict.
"Clashes between rival gangs who fight over the local drug business and trafficking routes into the US are a frequent occurrence in the streets of Juarez," he says.
And gang rivalries often continue inside prison, he adds.