Venezuela hero Simon Bolivar 'death tests' inconclusive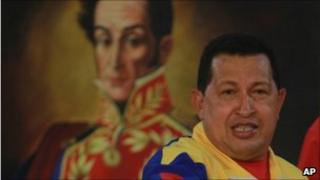 Scientists examining the exhumed remains of South American independence hero Simon Bolivar say they are unable to determine the cause of his death.
Last year, President Hugo Chavez ordered the exhumation of Bolivar from his tomb to see if there was any evidence that he was murdered.
Most historical accounts maintain he died from tuberculosis in 1830.
But the scientists found no evidence to support - or rule out - that theory.
They found no proof that he had been deliberately poisoned.
DNA samples taken from the bones and teeth of the skeleton were sent for analysis.
After the results were announced, Mr Chavez told parliamentarians he still believed that Simon Bolivar had been killed, even if he did not have the evidence.
Socialist parallels?
When Mr Chavez announced the exhumation of his hero on Twitter last year, he described how he "wept with emotion".
President Chavez likes to draw parallels between his socialist revolution and the liberation struggle of Simon Bolivar, even renaming the country the Bolivarian Republic of Venezuela, says the BBC's Sarah Grainger in Caracas.
Celebrations marking the anniversary of the birth of Bolivar on Sunday offered a way back into the political limelight for the President who had been absent from the country for a week, receiving chemotherapy in Cuba, adds our correspondent.
Venezuela's Vice President Elias Jaua said that scientists would continue to carry out tests on Bolivar's remains.
Known as "the Liberator", Simon Bolivar led the 19th Century revolutionary war against Spain, winning independence for Venezuela and several other South American nations.
The Venezuelan president claims him as the inspiration for his "Bolivarian" revolution, though some historians say Bolivar would not agree with Mr Chavez's socialist policies.