Guatemala Las Dos Erres civil war massacre trial begins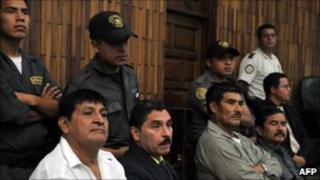 Four former Guatemalan soldiers are standing trial for the massacre of more than 220 people during the country's civil war.
The men are accused of being part of a Guatemalan counter-insurgency unit that carried out the massacre in the village of Las Dos Erres in 1982.
All four have denied the charges.
One local human rights group has called the trial "historic", saying it is the first of its kind to involve former soldiers.
The group, CALDH, has said the trial marks "the opening of the historical debate in our country".
At least 200,000 people - mainly from the indigenous Maya population - were killed during the country's 36-year civil war, which ended in 1996.
In 1999, a UN-backed commission estimated 93% of the killings were carried out by the security forces, who said they were targeting left-wing guerrillas.
The accused - Carlos Antonio Carias, Manuel Pop, Reyes Collin and Daniel Martinez - were part of the Guatemalan special forces, known as the Kaibiles.
A unit of Kaibiles entered the village of Las Dos Erres in the northern department of Peten in December 1982, during the time of the military ruler, General Efrain Rios Montt.
The military suspected the villagers of supporting or harbouring left-wing guerrillas.
Over a period of three days, the Kaibiles interrogated and then killed the inhabitants, including children, women and the elderly.
Many inhabitants were raped and beaten, before they were shot or bludgeoned to death. The victims' bodies were thrown down a well.
Fight for justice
Estimates vary as to the exact number of villagers killed.
In 2001, then Guatemalan President Alfonso Portillo acknowledged that 226 people were killed and that the state bore responsibility for the massacre.
He awarded the relatives of those killed $1.8m (£1.1m) in compensation.
But relatives say the real total of victims is over 250.
They have been fighting for justice for years. The case was first investigated in 1994.
But, until now, no-one has been prosecuted.
The Guatemalan authorities have been under pressure to prosecute those responsible for human rights violations committed during the civil war.
And in 2009, the Inter-American Court of Human Rights ruled that the state must act in the case of the Las Dos Erres massacre.
Another soldier suspected of involvement in the massacre - Pedro Pimentel Rios - was deported from the United States earlier this month, but has yet to face trial.
Several other suspects are still at large.