Ecuador president 'to donate $40m libel damages'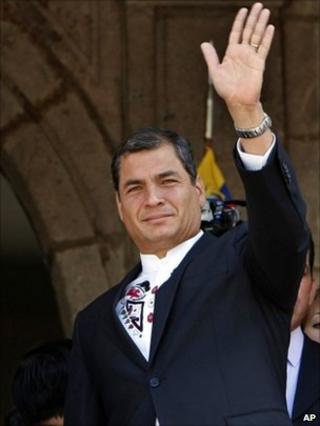 The President of Ecuador, Rafael Correa, has said he won't keep "one cent" of the $40m (£24m) he received after a libel suit against El Universo, the main opposition newspaper.
Mr Correa has vowed to donate all the money to a government environmental project.
A journalist, Emilio Palacio, and the three newspaper owners were sentenced to three years in jail each over an article published last year.
The four men said they would appeal.
The judge in the coastal city of Guayaquil fined Mr Palacio, and the three owners - Carlos, Cesar and Nicolas Perez - a total of $30m, as well as an additional $10m fine against the newspaper.
Mr Palacio, who was formerly the editorial page editor at El Universo, called the sentence "a barbarity".
Mr Correa says the money will be used in the Yasuni-ITT project, a government scheme to raise billions of dollars from international donors in exchange for renouncing oil exploration in the rainforest.
"I'm not interested in one cent, even worst from Emilio Palacio or the Perezes," he said.
Mr Correa's lawyer, Alembert Vera, said the president would also appeal in an effort to obtain the $80m he originally sought in damages.
'Coup attempt'
The libel action was brought by Mr Correa after El Universo published an article questioning an army raid to rescue him from a violent protest by striking policemen last October.
He was tear-gassed by his own police force in the capital Quito and then trapped inside a police hospital surrounded by protesting officers for more than 12 hours.
Several people were killed or injured in the unrest, which Mr Correa insisted was a coup attempt.
In an article published in El Universo in February, Mr Palacio referred to Mr Correa as "the dictator" and said the president had ordered soldiers to fire on the hospital.
The paper later tried to reach an out-of-court settlement and offered to print a correction, but Mr Correa turned both down.
The libel case has been criticised by press freedom groups as part of an effort to muzzle the media in Ecuador.
The president of the US-based Inter American Press Association, Gonzalo Marroquin, said he hoped that higher courts would "know how to uphold the right to freedom of the press and of expression of all citizens."
Mr Correa has accused much of the independent press in his country of being corrupt and of manipulating the truth.